A Real Slump in Auctions

There's been a slump in our regular live auctions lately and I guess the baby boomers. aren't retiring and downsizing as they have in the past. There's been a good run of quality items for that very reason … well…  I" ll just have to wait for the second wave.
Plan B
So, I'll go to plan B, that's what I'll have to do, go back to my favorite, the Storage Auctions.
You know the reality show that you watch on TV. You know, where the auction junky finds a fortune by sticking their bare hands into an unknown container?
That part is just silly, Eh!
For a blog writer, if you are ever in a slump for something to write and you need inspiration, check out the storage locker circuit. Some of the lockers have a lot of good, bad or ugly stories to tell.
Open the door to nice, neat looking boxes, and a couch and chair which are surgically wrapped in plastic Or, open the door and it's as if somebody stood in the doorway and just threw the items in. (Now there is one upset person)
Taking the fun out of the auctions
A lot of these locker auctions are now being sold online with only a couple of terrible-looking pictures to go by.
So, buying these lockers is not for everybody.
Live storage auctions were bad enough before with only a flashlight to find your prize, so, number one rule at those auctions is to bring a really good flashlight and a good imagination.
Now,… how do these companies expect you to bid on something with a blacked-out picture that's taken upside down?
You have to be either stupid or nervy.
Must be a lot of nervy people out there,  the online delinquent storage business is doing good, so, call me "Nervy"
But, these delinquent lockers could be a lot of work, and did I say … you're bidding on these lockers with very lousy photos.
As we speak I spot this large locker with skids.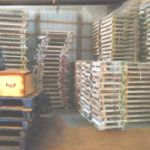 Why would they pay $700? rental a month to store skids? And why would somebody buy these skids? No money in skids! So. Call me stupid.
"I just bought a job "
I did find some gold once…  I think?
"Future POST" Finding gold in a storage locker.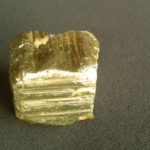 Anyway, …
It's not for everyone.
 Please check out my first posting of storage auctions
---