"USS Little Rock",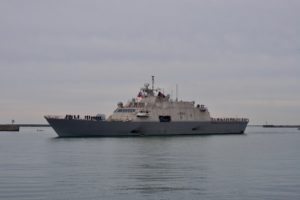 Having read this story of a newly built Frigate "USS Little Rock", it never even made it out to open seas, stuck in the St. Lawrence Seaway ice. That was an intriguing story to read on its own.
But where it was built surprised me the most.
Surprise
The frigate was built by a shipbuilding company in Wisconsin USA, which by the way is in the top of the great lakes….  That I found interesting.
So doing a little research I learned this company has been building Warships for a long, long time. Again, surprise, given I remembered this story from years ago. All major shipbuilding in the great lakes would be disbanded, shut down, gone. And only by memory, it had something to do with homeland security. The only way, in our out of our lakes is through the St. Lawrence River to the open seas, and that by way, has a series of manmade locks to go through.
Building a warship and have it landlocked or (lake locked) in the great lakes would not be acceptable during any world confutations/disorder where they needed this armament.
History of shipbuilding in the lakes
Digging a little further on shipbuilding in the great lakes, it goes right back to the beginning of our 2 great nations. Canoes, wood structured steamers, taking freight and passengers up and down the lakes, Ore tankers where built here, fishing trawlers were built here. During the war of 1812, to the conflict of 2 great wars. ALL have a history of boat and shipbuilding in the lakes. But that part did not come as a surprise, during the two Great Wars, every shipyard contributed. If you were an iron factory and you were set up to make a propeller, that's what you made.
A Small Town of Orillia Ont. made warships, and that was in small, lakefront, workshop (Hunter Boats) now gone but in its place is a beautiful boardwalk where the buildings once stood
Collingwood made Warships "Corvettes" and after the war effort, they made and serviced many lake freighters and ships.  All major Canadian shipbuilding is gone in the lakes and very few shipbuilding yards are left in all Canada as a whole, so it's no wonder that I remember that story of no shipbuilding in the lakes. Just a rumor or maybe the story was, just meant, only on the Canadian side.  No building of ships in the great lakes ever.
http://shipbuildinghistory.com/canada.htm
Little History of WW2
Watching this article on the History Channel on how German U BOATS
during WW2 would create havoc all along the eastern shores of the Americas, from Newfoundland, Canada, down to the Carolinas in the United States. The story also mentions that these German U Boats made their way up and down the St. Lawrence River, undetected, and in case you don't know your Geography, that goes into our fresh water Great Lakes.
Divided by an imaginary line Canada on one side and the United States on the other, there are no International Waters.
If in fact their mission was to totally disrupt our shipping coming in and out of the lakes and I'm sure, those sailors could have done some very serious disruption. (I guess there only intent was to just drop off a few spies, listen to our brass band music) apparently, they were close enough.
If their mentality would be like the Warfare of today, in the sense of suicide missions and it didn't really matter of getting back out to sea was a priority, and they just wanted to create as much damage and disruption as possible scenario, the outcome "could have different"
So, there is where I'm getting this crazy story from, and this is the first I have ever heard of a warship being built in these lakes. I'm sure it was never top secret, but I don't think they did a lot of advertising of the fact.
I'm just going to have to get out more, smell the roses, or, at least find out more on shipbuilding on the Great Lakes.
Locked in ICE
USS Little Rock, locked in by Ice and can't get out to open sea, still makes me think of my original thought. I mostly thought of foreign invaders, and it never even crossed my mind something as simple as ICE. Now having said that, if the Navy needed or wanted to get that ship out to sea, and in this day and age, it would not be impossible to make it happen, ice or no ice, a minor inconvenience at best.
On a lighter Note
On a lighter note, the American sailors on that ship could not have found a better place to be laid up for a month is in Montreal unless it was Quebec City, Canada, good cities to just, hang out.
"Don't worry boys and girls, the Canadian ice will melt soooon.
So looking at the whole scenario of warships being built in the great lakes, I would think it would make a lot of economic sense to keep the money at home. Undisturbed sea lanes for sea trials, keep all our secrets at home and a thousand other good reasons that I haven't even thought of. But I'm not quite convinced and still surprised no less of building Warships in the great lakes.
I wonder if those ships are armed, ….  Just Asking.
"Did You Know"
According to the Canadian Legion news that after the Second World War… Canada had the second largest Navy in the world.  Who would think?