Reading different articles (and there ain't no shortage) about Canada very own state of the art CF-105 Supersonic Avro Arrow fighter. This article is about the demise of the Avro Arrow. It was homegrown, born, built and manufactured right here on Canadian soil. It was the pride of all Canadians citizens. The sudden cancelation of the Avro Arrow in 1959 was and still is a big mystery today. Most articles on this "state of the art" Jet Fighter is fascinating reading with many different authors perspective and conspiracies. This is Mine.
"What really happened on Black Friday?"
So now I'm reading the latest article of why our former Prime Minister John Diefenbaker decided to lay off 15,000 of his own countryman,  and thousands more Canadians were indirectly affected by his sudden decision, they all had one major thing in common, they all wondered… WHY?.
Did our Prime Minister wake up in a bad mood, did he not get his breakfast on time. What made him make such a drastic move that would affect so many people?
To know the answer, we have to think the way he thought.
The Canadian people voted and trusted his Progressive Conservative party, thinking that their number one priority would have been keeping Canadians and Canada in his best interest. This decision on shutting down CF-105 Interceptor program as history might say was not one of our Prime Ministers better moves. He kept the decision well hidden and a secret from everybody until he made the announcement in Parliament. So was this spontaneous thinking or was as, theorist would say, he was strong-armed into canceling the project.
HE STOOD UP AND SUPPOSEDLY SAID.
As of today, I decided to "lay off 15,000", I mean cancel the Avro Arrow Program.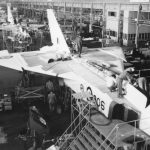 And laying off all our faithful workers in our aviation industry effective as of, NOW, as we speak, Disbanded all making of the Arrow program, we want it … GONE!
Our Government at the time could not have given this a long-term THOUGHT?
The teletypes couldn't print the news fast enough. In the factories at lightning speed, they got the news. The management was instructed to read this message, so on October 14, 1959 "Black Friday" it was said, effective immediately, send your workers home.
Please check out this YouTube video on the Avro Arrow.
The management was shocked at the news, a lay off maybe, but a complete shutdown! So, over their internal loudspeakers, this message rang out, shut her down boys, take the rest of the day off and don't forget to take all your personals with you, just in case you don't come back, "which they didn't".
So that black Friday, as it was called, our Aviation Industry as we knew it was gone.
But what made our Prime Minister do such a thing? At the time, it was well known that the Kennedy administration didn't get along with, "as they put it, boring" Canadian prime minister, but that couldn't be a deciding factor or WAS IT? …  Eh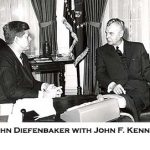 *** Did the US President John F Kennedy meddle in our elections and HAPPILY cause the fall of our Diefenbaker's Conservative Government. Under-handedly, leaking to the press, the U.S. would not buy any of their/our "state of the art Jets" … "The Domino Effect".
*** If this is true, I will remove Kennedy from my favorite Presidents list and it's, getting pretty short.
*** (Note) At the end of the day, with all remnants of our Fighter Jets, gone like it never existed, Canada still had commitments to fill with  Nato and the newly committed "NORAD".  So, we still had to purchase much-needed jet fighters for the task and where do you think they came from?
"Outside our Country".
Please come back for PART 2 and 3
WHAT REALLY HAPPENED TO THE AVRO ARROW PART 2
SCOURING THE OCEAN FOR THE AVRO ARROW part 3
If my posting is not correct, please go to this link.