I'm not advertising a fun photography contest and I'm not advertising money for your award-winning pictures. But if you ever get the opportunity to show off your photography skills, then take advantage of some to all photo contests, like the ones MacLean's or Nature Canada.ca have every year.
You can learn a lot about yourself and your camera by entering these photo contests,  plus you can show off your passionate photography skills.
PHOTO CONTEST in Cottage Country
Many moons back, a beautiful small lakefront town of Gravenhurst had a photo contest. When signing up for the photography contest, they said, "Here is your roll of film. You can photograph anything and everything, as long as it has something to do with the town and surroundings."
There are beautiful lakes, not one lake, but many lakes, tourists coming and going, old boats, a turn of the century steamer, etc.
There was no shortage of photos to be taken here!
The famous Steam Ship RMS Segwun [the last of its kind] was moored at the dock. The fog was heavy on the lake that morning and I couldn't get a good picture of the ship without getting my feet wet, so I took whatever photos I could and said to myself, there's got to be more pictures to be taken other than this beautiful 100 + year old passenger steamer.     Right
Right Place at the Right Time
There was a photographer in the group that begged, borrowed, or STOLE a boat and came in from the lake-side towards the pier. You could hardly see the Segwun from the fog, and as luck would have it, the fog cleared enough around the backside of the ship, with a ray of sun coming through the fog, and snap, goes his camera. The person was ready for that split-second shot.
Photography for the fun of it.
On the awards night, all the entries were displayed and my Wife and I knew that he was the award winner. This person went the extra mile; he didn't waste a frame and he was in the right place at the right time. And he didn't even get his feet wet!
I got to know the good, the bad, and the ugly parts of my camera and also noticed all the beauty that surrounded us.
After that contest, I knew every back alley, side road, number of street lamps, number of park benches in the town of  Gravenhurst, Ontario, Canada, and, of course,  all the coffee shops.
It really was a fun and tiring 16 hour day … try it sometime. Google Photo Contests for the ones around your area or tries online. Get recognized for your photography talent, train your eyes to LOOK and SEE. You don't have to go far to notice the beauty all around you. In today's world, there are so many places to sell and share your award-winning photos. Be proud, show them off to the world and a good place to start sharing is on social media photography groups.
Now dig your camera out of the closet, blow the dust off and let's get cracking, I mean SNAPPING.
A photographers' saying is: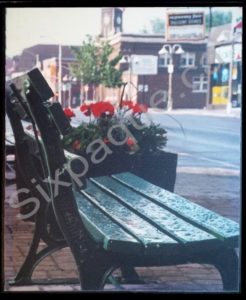 A person will go to Japan to see all the beauty that they have to offer, and the Japanese will come here to see all the beauty we have to offer.
All you have to do is stand for a moment, look, and see all the beauty that surrounds you …  And that's without moving a step.
"Actually, it's MY famous saying"
Sixpaque.ca  [Note] In case you're wondering…I came in third.
Thanks for Asking!