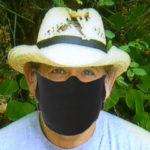 This Coronavirus  (COVID-19 Pandemic is affecting everyone around the globe. In this part of the world, we are told to stay home and boredom will be the only thing you'll catch. But this seclusion doesn't have to be all doom and gloom. Take up Blogging, be a writer, a Book Novelist. Take a course in something, play catch–up in this time of isolation.
If you're healthy, and that's the big one, and you're just homebound and bored, well, then, now is the time to do something constructive.
Some of my opinions on Facebook and twitter I mention that a person should take advantage of the downtime turn a negative into a positive.
Life-threatening Emergencies Happen,  
Take a course in something that you always wanted to do and never had the time. Learn (parlez vous anglais) in French for when you're traveling to old Quebec City. Or at. least say,  (Je ne suis pas bon en francais mais j'apprends.) That means "I'm not good with French, but I'm trying" Now — you started learning French.
You are in isolation, but you don't have to be bored.
Blogging online or just writing articles that could turn into hardcopy books. And good books could turn into, world-class Novelist (You can introduce yourself as "My name is ???, I'm a world-class Novelist, maybe you're heard of me) "Nice ring to it … I like it!"
Who knows where this new adventure of Blogging or writing will take you.
This downtime could be your calling in disguise.
Speak your mind, raise your voice and concerns to the world, "this is not expectable."
Concerned about environmental or climate change issues, now is the time to share it. If you have useful information to share with the world, now is the time to do that.
In case you haven't noticed the "How do I" question is always asked on Google, you do it yourself without even noticing.
You know you're doing the right thing by staying home, but it doesn't make it any easier and you don't have to be bored stiff.
So if Blogging turns your crank, here is my choice of web solution, and its called Canspace. Now Canspace is all Canadian, and this is where you will start your new journey.
Canspace Web Hosting is comparable with others and its affordable, (check below for the rates) There are freebies out there but I don't recommend them, but free is free.
They will arrange for you to have a Domain Name, which you need, and in some cases, they will even throw that cost in for free.  ($10.00 year)
5-Way Powered Weather Radio for Household Outdoor Emergency Buy Amazon
You can check around and compare, but some sites make you more confused with a bunch of numbers and jargon that you don't understand.
Canspace does everything I expect it to do, the cost of web hosting is comparable to any on the web, it's Canadian. In my books, Canspace is one of the ten best Web Solutions. I give them a five-star rating.
Your name could be amongst the great novelist of the world, and all it takes is "One Step."
YOUR NAME HERE
Miriam Toews
Lonard Cohen
Heather O'Neill
Dionne Brand
Margaret Atwood
.If Blogging or writing is not your forte, at least take this downtime to do something, anything constructive.
Check below for the least you need to get started in your new writing career.


If you find any spelling or grammar mistakes. Click Here For More Information.