Collecting Christmas Tree Ornaments

Collecting Christmas Tree Ornaments and decorations, or anything Christmas, is a real serious passion for many groups of people. These Christmas goods collectors take more than just a fancy to the little round objects they call Christmas Tree Ornaments. They look at anything Christmas through different eyes than most people. It's a passion for many of these people. NO! . . . It's an obsession.
You the collector have been hunting down and Collecting old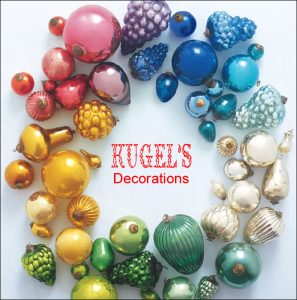 Christmas Tree Ornaments all year long and its finally time to show off you're fine collection to the "VERLD" I mean the world.
It's Christmas Time in Canada at last Eh!
Hell, Collecting Christmas Tree Ornaments and the likes is an addiction of sorts.
We all know there's not a proper way of decorating your Christmas tree. There's no book of rules. As long as you make it pleasurable looking for you and your family, that's all that counts. Your kids bring home ornaments they have made a school and you hang these personalized drawings on the tree. Christmas cards are strategically placed between the branches along with the lights, tinsel and the beautiful colored hanging decorations that come in every shape and size. This is a special time of year for a lot of folks.
People take this Special Day of the year quite seriously.
The tradition comes alive but sadly only once a year, except, for this one fella on U Tube video . . . ."Christmas is all year long."
Did you know that the way we spend Christmas in the modern world,  wasn't always like that? Some old documentations date decorating Christmas trees back to the 1600s. But Christmas as we know it today, didn't really become popular until much later on, around the 1800s. But I'm sure people celebrated Saint Nickolas Day in some form of celebration.
 A LITTLE HISTORY ON CHRISTMAS IN EUROPE
German Santa was called the Belsnickel and Wikipedia.org says Belsnickel means;
German for to wallop or to drub and Nickel being a hypocorism of the given name Nikolaus) is a crotchety, fur-clad Christmas gift-bringer figure in the folklore of the Palatinate region of southwestern Germany along the Rhine, the Saarland, and the Odenwald area of Baden-Württemberg. The figure is also preserved in Pennsylvania Dutch communities in the USA.
Christmas Tree Ornaments
Kovels Antiques and Collectable Guide says.       https://www.kovels.com
"Christmas collectibles include not only Christmas trees and ornaments, but they also include. Santa Claus figures, special dishes,, games, wrapping paper. Belsnickle is a 19th century figure of Father Christmas, made of paper mache
A popular Kugel is an early, heavy ornament made of thick blown glass, lined with zinc or lead and often covered with colored wax. Christmas cards, tin toys are also highly collectible. I was personally collecting still banks. The Santa Clause cast iron bank was a hard find, but they were my favorite. So Christmas décor comes in many different shapes, sizes, and themes.
Something to look for on Kugel tree ornaments.
The 1840s-1900s they were heavy, blown glass. (Kugel in Germany) means round ball but don't let that fool you. They came in different shapes and styles like fruits, apples, berries and the like. The older additions had their name stamped on the steel collar of the ornament. (like many other makes) A very light chrome coating covered some, so look for flaking or the worn tarnish after many years. The spring clips that attached the string to the ornament were attached inside the top of the bulb. Not like today's push on attachment.  During the war years, the ornaments and decorations had a paper or cardboard collar (instead of steel), mainly because of the mass shortage in material, due to the war effort.
** Point to remember in collecting anything. The war years changed how many things were made or not made due to the war machine.  "Steel, paints and most or all material, in general, were cut back for public use. Etc".
(1864) Early Snow babies are highly collectable. They were made of candy and used as Christmas decorations. In later years they were made from bisque and spattered with glitter sand. There are also Snow babies tableware made by Royal Bayreuth. Copies of the small Snow Babies figurines are being made today in a line called "Snow-Babies" repro. But that's not a bad thing.
∞ The least you should know on Christmas Tree Ornaments. ∞
∞ Imposed identifying marks on the ring or, some people call them caps.
∞ The older caps were smaller than the newer versions.
∞ Look for a paper /cardboard ring/ cap.  That will date it into the war years.
∞ Look for a tarnished ring.
∞ Check the lip under the ring. Is the glass flush or has it a lip. Older ones are flush.
∞ Plastic is a dead giveaway of newer ornaments.
Countries to look for when collecting old Christmas Tree Ornaments
*Czechoslovakia *Poland *Germany
Shiny Brite Tree ORNAMENTS 1930-1960s seem to be the most popular for collectors. Before the war, they were just plain decorative balls for the tree. After the war, they became a little more colorful. Some came with concave starburst (reflectors) with lots of glitter, different shapes, and styles.
∞ ALSO LOOK FOR ∞
∞ Advertising SIGNS- Example – "Coca Cola sign with Santa drinking a coke"
∞ DISHES- glassware with a Christmas theme.
∞ Decorative hand-painted balls and shapes like animals and little, hand-carved people, etc.
∞ Decorative bells
∞ Hanging lanterns
∞ Snowbabies are highly collectibles        https://www.kovels.com/price-guide/snow-babies.html
∞ Cardboard cutout of St. Nickolas figurine
∞ Betty Boop hanging ornament.
∞ Novelty hanging decorations.
∞ "German Dresden ornaments are embossed cardboard with very fine detailing."
∞ Christmas post-cards come in pages of 4 and you just cut out the one you want. They're collectible!
There is no written rule on decorating your tree but there are some really neat old looking ornaments and decorations out there to be uncovered.
AS THE STORY GOES, THEY EVEN HUNG COOKIES FROM THE TREE BRANCHES AS PER STORY.
"When I grew up in Europe there were no artificial trees nor electric lights to brighten up the tree. The Christmas decorations were mostly passed down from generation to generation and were hand-painted, small ornaments, about 3-4 inches in diameter.
There were also many bird-shaped ornaments with angel hair tails, fancy homemade cookies, strings of various nuts, and of course with real candles about 3 inches high.
The candles were only lit for a half hour or so because it was so dangerous and one of the adults would be on watch with a candle snuffer and water, in case the tree caught fire."
  Author Unknown
………………………………….
Do your research on Christmas Collectables. You will find a wealth of information on Christmas Tree Ornaments and oddities on the web.  So don't be too surprised if you get hooked on this interesting hobby. Bonus, you can show off you're fine Christmas collection at the same time, every year.
"So, let's get started." Eh!
Lots of places to find treasures: the thrift stores, flea markets, garage sales, and church bazaars. Nobody thinks of Christmas in the offseason, (summer), but that is the best time to buy. Do your research now,  get armed with what to look for, get ready for the offseason, and remember in any collecting,
 "Knowledge is power".
Let's get started! Oh, I already said that Eh.  Remember, they're everywhere. You just have to look and see.
"Please leave me a comment or any suggestions."
 INTERESTING WEBSITES FOR YOUR Christmas Related RESEARCH.   https://www.kovels.com
Please check the affiliate disclaimer,  link.
…………………………………………………………