This is #17 installment of "The Least You Should Know 50 Series" and it's about simple Sad IRONS, or some people just call them FLAT IRONS.
Your question would be, "are this 70-year-old or better sad irons collectibles?" "I guess they are, and especially when mated with their counterpart, the Trivets. (LINK)
As we know the first generation irons were hand-forged hunks of metal made by underappreciated, hard-working blacksmiths. They smoothed off the bottom and incorporated a crude-looking iron handle on the top and voilà, a sad iron was born. But mated with the proper trivet, some sad irons could be a thing of beauty.
And Bonus! They all come with lots of history of an early and simpler lifestyle.
NOW for you people that are asking yourself, what is this Canadian talking about?

Here is A Little History on Sad irons.
Many years ago Archaeologists in China unearthed remnants of what they believe was a sort of iron or stone apparatus that they pressed their clothes with. This ironing system dates back to the Middle Ages. "Sadly" the SAD IRON wasn't introduced to the rest of the known world until around the 12th century.
It was a godsend for some and a heavy, hot, hard job for others.
Sad irons were used in every household just to (LINK) "IRON YOUR CLOTHES". That was their sole purpose. These heavy useful chunks of cast iron were placed on a wood stove or even on an open fire to get heated.
(They make for an interesting doorstop).
When the iron reached the proper temperature, they were used to iron out your wrinkled clothing after washing. Sitting on a wood-stove over a short period of time, the handles got so hot you had to wrap the cloth around the handle just to hold on to the iron.
Sad Irons
First addition irons had a crude style handle. Then wire handles were attached that got hot but were a little more manageable.  It is hard to say when, but I would think very shortly after the first try at making sad irons, they started improving on them, "Starting with insulating those hot handles".
Someone came up with new and improved irons that had removable handles or wooden insulated handles. Some irons, instead of setting them on the stove to heat up just had a compartment at the bottom of the iron to insert hot coals. This was good for twice the length of time before reheating.
And one iron on the stove for backup!
They also say, if you wanted your ironing done faster, most people in those days had 2 or 3 irons being heated at the same time. When one cooled down, a second one was a back-up, and when the second cooled, you had another one on the stove, one right after the other.
We're talking about a simple household item that is still in use today and just for ironing your clothes.
These kitchen utensils as I said were a heavy, mostly cast iron made chunk of metal and their sole purpose was to iron your clothes.  They are called "Sad Irons" but some people just called them "Flat Irons". They were designed to be smooth on the bottom and pointed on one end to go around buttons and some sad irons were pointed on both ends (so you could iron in both directions if it so pleased you)
It was also said if you wanted to get your job done faster, iron your clothes from the inside out, so your iron didn't get caught up in and around the buttons sticking out. "Just a little information in case you want to give your new flat iron a test run".
∞ ∞ In the late-1800s advertisement for new, detachable-handle irons shows a woman flinging her Hot handled sad iron to the floor as she shouts, "Barbaric relic. I DISCARD THEE" ∞ ∞

First addition irons had a crude style handle. Then wire handles that got very hot were a little better and over short periods of time, someone came up with new and improved irons that had removable handles or wooden insulated handles.
Just think, pointed at both ends so you can get more done and coals to keep the iron hotter longer. Life is good eh! Talking about efficiency!
  (LINK) –  SAD IRON in Old English means, [ Solid Heavy ]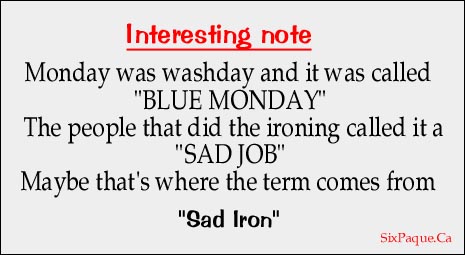 The weight of these Sad Irons ranged from 1 LB to 11 LB (A small bag of potatoes is 10 lb)  and the estimated price today could range between $30 and $90. Rare Sad Irons could be in the thousands of dollars. Just to give you an idea of the value!
The least you should know about Sad Irons
∞ Plain cast iron
∞ Stovepipe irons
∞ Charcoal irons
∞ Asbestos Sad Irons
∞

Top Hat Iron
∞

Rolling Hand Flouter
∞

Sleeve Iron
AND MANY MORE STYLES not mentioned.
If you are starting to get the itch to collect Sad Irons as your new found hobby, you can purchase these old pieces of sad history at most antique shops, garage sales, etc. You can always find them at flea markets and even the most unsuspecting places, like car swap, meets.
They come in every weight, style, and even small toy ones for the little girls in the family. Through the clothes iron history, they changed or had different styles and options. There were just plain heavy cast iron ones, there are gas-operated ones to keep the iron hotter longer, there were bottom charcoal loaded irons, etc.
An "electric flatiron" was invented by a US inventor called Henry W. Seeley and patented on June 6, 1882. It weighed almost 15 pounds and they took a very long time to heat. But many rural places (hard to believe) still did not have hydro up till the 1950s.
I'm downplaying the role that these sad irons took in our history. They were a much-needed item like the silverware on your table. As I described these sad irons to be heavy pieces of cast iron, some were quite elaborate looking and far from being primitive. Some almost have a mystique look about them.
Today these heavy pieces of cast iron are a good add on to your collection of worthy items. These old Sad Irons are still a very collectible item and have quite a following.
Familiarize yourself with what they all look like. Search Google "Antique Sad Iron" for an interesting read and also search Google Images on Sad Irons. Eh!
Pinterest has a good collection of Sad Iron Pictures.
I hope you found this article useful and it is for entertainment purposes only, but if you think you're not a collector, you thought wrong. Everyone is a collector of something. You just don't think you are.
If you have any more than three items the same, "YOU ARE CONSIDERED A COLLECTOR"
IF YOU FIND any spell or grammar mistakes, PLEASE GO HERE.
Can't talk about Sad Irons without talking about MY POST ON (TRIVETS) (LINK)
Buy in Canada
your health may depend on it.