---
Forget your wheels at home, need a ride, easy, put up your hand and hale a taxi down . You'll be picked up, taken to your destination. Life is good. It's a commodity that was always needed in our busy lives and even more so with the changing of the times. But I wonder how the new guy on the block did it. How did Uber just take over the Taxi Industry, when these regular taxi companies had such deep roots in our community?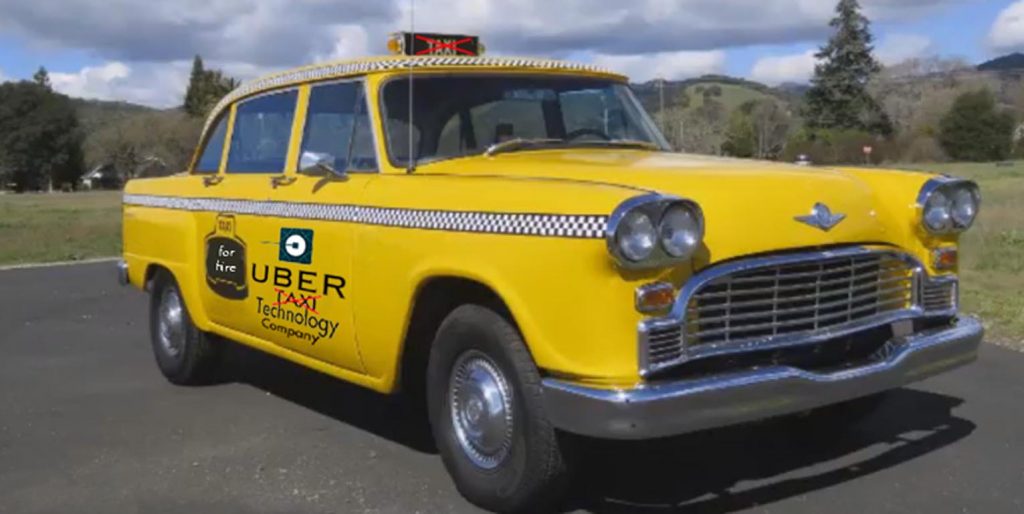 Is Uber taking over the Taxi Industry?
Well Maybe!
I can remember these public-oriented vehicles way back then. Taxi cabs always stood out, I never understood why. Well, maybe because as kids there were 2 taxi companies right around the corner from where we lived, but even then, they didn't look like cabs.  They should be somewhat … different, maybe a little more colorful, or at least have a Taxi written somewhere on their car.
Maybe I watch too much TV about New York City, all their Cabs are painted a distinct taxi yellow, I must have thought then, that's what they all should be like.
Living in this smaller community of 100,000, there was a safety blitz on by our local Police Department. They were inspecting cars that seemed a little …past their prime.
But before I can tell you the complete story, I have to say, it was not uncommon to see these Taxi owner-operators at the local government car auction purchasing a used police cruiser for another fine addition to their fleet.
They probably were right in there thinking, police cars are specially made for a heavy-duty environment. They are meant for going far beyond the normal ability of vehicles being sold to the public. So theoretically, it was a wiser choice for their industry. In reality you could pick up a good reliable surplus police car, reasonably cheap. My thinking though, once a police car, is always a police car. But that's only me.
But this story is not about government surplus or even police cars. It's about the Taxi industry as a whole and how for many years, you never saw a new taxi cab in your city.
So there was a safety blitz put on by our finest. One taxi cab was pulled over with too many road violations. "Phone a tow truck," the officer said. While ready to wave another vehicle over, as luck would have it, he pulled over another unfortunate taxi operator. He's inspecting this vehicle, "Nope he's not going anywhere"
The officer said to the tow truck operator, when you're finished dropping off that taxi, come back, and get the other, So for many years, the taxi industry was, let's say, behind the times in advertising their brand and maintenance on their vehicles. Maybe the public remembers those days, and maybe that's why they're embracing the new guy on the block.
Now through all fairness, the system is much better today. The government safety inspections are mandatory and done annually. And this law applies to the new guy Uber as well as the taxi industry as a whole.
But you still have to ask your self, is Uber taking over the Taxi Industry? Sure looks like it!
A few years back, most cab companies did not want to upgrade, most didn't want to voluntarily maintain their vehicles to a higher standard expected of them. They had a monopoly on the system and they knew it. There were only so many TAXI licenses issued in any jurisdiction. If you had a license it was almost gold and, it was always renewable.
Owning a Taxi license was considered by most owners a retirement fund when selling.
I remember a part-time driver saying to an older seasoned owner/operator, "I have some good ideas on how to improve the taxi system," One owner came up to him and said, keep that to yourself. It's working just fine the way it is. And that was the mentality in the taxi industry for many years.
Do I feel sorry for these taxi operators? Sure I do. They just didn't keep up with the times. Remember, Taxi driving is a hard and dangerous way to make a living with long hours and low wages. Most are just working class of people, just trying to make a living and doing their share of making the world go round.
I myself do not by nature trust anybody sitting behind me. Call me paranoid. Maybe something happened in a previous lifetime, past life regression they call it, I just dislike or trust anybody sitting behind me. Driving would not be for me. But, put in the equation of people, who have been indulging too much, are broke from all-night partying and have the nerve to say to the taxi driver, and that's after reaching their destination, "catch you next time OK" or "I'll pay you next week "Bro." I DON'T THINK SO. It has all the ingredients of a dangerous trade and, most of these drivers do it day in and day out.
So what comes first, the poor condition of the taxi cabs, the high cost of license fees? Or maybe it had to do with the high cost of insurance. Maybe just outdated business practices and not staying up with the times.
Adding to the equation, here comes a techie company like Uber. The new alternative to an old taxi industry.
Uber and their Sister Company have been test running their system around different parts of the world. They just came into our area and snuck in the back door when the taxi industry wasn't looking. But I do have to wonder, surely the taxi industry in North America was watching Uber. Surely they had a contingency plan to deal with the threat; they must have seen this new tech company coming.
In today's age, kids have their own cell phones and computers, and they know exactly how you to use them. Technology is the way of the future. The Taxi industry must have seen it.
Is Uber taking over the Taxi Industry? Yeah! But they had a few secrets weapons.
3 Secret Weapons of Uber
They don't call themselves a TAXI SERVICE; they are a "TECHNOLOGY COMPANY." Service-oriented with cell phone APPS. Remember, only so many TAXI LICENCES are Issued, NOT so with tech companies.
Uber apps made it easy to order a taxi, get a destination price and they take every credit card imaginable. They made it convenient and appealing to the newer generation in ordering a cab. And, their Taxi CABS, a vehicle must not be older than 2 years.
The local news commentator said in their news report that an Uber driver was charged for running a red light. They should have said," this fella driving down Main Street, and went through a light." It should not be advertised as that UBER driver went through the light. A bad accident on one of our main highways and it was another UBER Driver charged. Uber again.
Why are they getting FREE National News exposure? Even by this article, I'm helping their brand name, with free, no charge no royalties advertising. Drivers will come and go, but the name brand will be forever exposed with FREE advertising from National or Local news, or some Dumb Blogger. "You Can't Buy That Kind Of Advertising."
The Cardinal rule is "Any advertising is good advertising."Good, Bad or Ugly".
With that in mind and I am finally seeing the bigger picture, I'm going to my local stockbroker and buy some stock on, whatever their name is, taxi company, I mean, Technology Company. (It's NOT a TAXI) "I wonder what $50.oo will buy?"
Free exposure or by luck, they just seem to be a little smarter than the old disorganized taxi companies, that took too long in staying up with the times. So through all intense and purposes,  Uber the "Technology" Company from California just made it extra easy paying for the ride, more convenient for ordering, and, that's all it took in today's new wave society.
The general public says who really cares, who owns the company. If the ride takes me from here to there, we're good to go. In general, people are not loyal type. Being faithful to the old Taxi Companies just isn't there anymore and maybe, loyalty was never there.
So next time you're thinking of phoning a taxi company, who would you think of first. Uber is the household name now. Not Joe's taxi service that still has the markings of an old police cruiser on it. Not KW gets a ride, which is a relatively easy name for me to remember, but it's that new guy on the block, that, what's their name again. "ZX#@ "
What did you say that a new taxi company's name was? I want to buy $50. (Bucks) worth of stock.
POINT OF INTEREST. . . . Before the new taxi guy in town, a Taxi license could be worth $100,000. ?? Give or take a few thousand. "Just to give you an idea" And these licenses that the older Taxi owners kept for their retirement are, basically Worthless.
This is only my opinion, and that's just the way I see it go down, but is Uber taking over the Taxi Industry? I think …….
This article is part of "Chronicles of a Taxi Driver" series
WANTED-Taxi stories
Tell your story to the world. "Good Taxi Drivers Stories Always" wanted as guest writers with credit going to the author. "But the stories have to be clean and not all can be published"
Sorry but all articles and stories will be the property of Sixpaque.ca. "Possibility Of Future Publishing." Eh!
Please copy and paste my e-mail address… Canadiandw@gmail.com … with your good, bad or ugly story of driving a Taxi Cab.
Check back often for more stories being added.
"#ChroniclesofaTaxiDriver" eh
"Chronicles of a Taxi Driver" Series of Articles