So, you have to wonder what Classic Cars and Hospitals have in Common? well, let me tell ya.
We're heading off to the local Hospital and I just remembered, I forgot something to read. So I picked up my  "Old Autos Newspaper", yup, it's a Classic Car day for reading. I parked my ride and we're heading into the over-crowded waiting room. As we entered I noticed you could hear a pin drop. After scanning the room, these people certainly had other things on their minds.
I opened up the Old Auto Newspaper and you could almost hear the room come to life. I thought I was disturbing these folks with my rustling of the newspaper, so I looked up at all the people and apologized for making so much noise. Then I noticed they weren't looking at me. It was my newspaper they were interested in!
Not me at all, It was my Classic Car Newspaper they wanted.
The lady on my right woke up and said, "I used to own one of them" as she pointed to a picture of a 1952 Hudson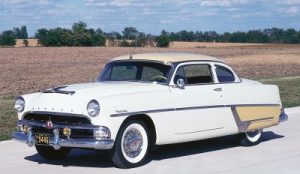 "and my brother," she says," took two years to overhaul his 62 Corvette, just like …  that one in the picture." The guy to my left said "I had one of the sports cars"
Oh yeah, she was a beauty.
I noticed the lady across from me tried to read the backside of the paper but I knew she had a rough time. At that point, reading the newspaper was the last thing on my mind. I just took out the swap meet section and laid the paper down among the others. For these people reading this paper had to be a little more refreshing than what you normally find in Hospitals. Eh
After laying down the paper it was immediately swept up by the lady across from me. A few minutes later she laid it down and it immediately got scooped up by someone else across the room.
I couldn't help but notice all the interest these people had in my old paper. Taking a second look around, clearly, these folks had other things to worry about. I knew that these pictures of old classic cars were part of their past and certainly, much better times.
Momentarily, their troubles were gone.
I have to thank the publishers for this awesome car newspaper. I'm sure their intent of publishing this paper was not for a good read in a hospital, "but it was anyway".
The gist of this story is this classic newspaper brings great informative information to the collector and auto enthusiasts.
But more importantly, even for a short period of time, the Old Autos Newspaper brought much-needed smiles and precious memories to those unfortunate people that had an uncertain future.
" The looks were Priceless".
 In Memory of my Brother Jack (my swap meet partner)