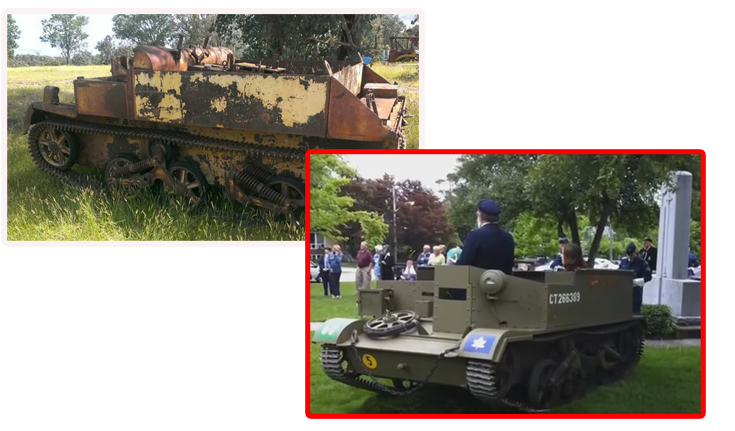 You never know what you will find hiding in the bush. I wrote a few articles on abandoned and forgotten cars trucks and military equipment, I call them barn finds. I sometimes, like now. I will refer to this abandoned military Bren-Gun Carrier found, in the woods in Huntsville Ontario as a barn find. It was abandoned, just not in a barn, but abandoned no less… Same but different, Eh
Military Equipment Barn Find, Kinda.
After the Second World War Canada and the U.S. had an abundant supply of decommissioned military equipment up for sale.  Hunters, trappers, woodsman, lumberjacks, log handlers and yes even farmers bought them to try plowing their fields. These people just scooped up anything with tracks on them. The rough terrain in the back-country is what these tracked machines were designed for and they were all still … "Brand New". These carriers, minus their armament, (Bren Guns is a machine gun) Like I said these universal carriers had many uses in the rough back-country, well, UNTIL THEY BROKE DOWN AND THEN they were just LEFT, abandoned. "Exactly where they broke down."
So here is this rumor I heard about this WW2 Universal Carrier that was found in the woods of Muskoka a few years back.
This is the story as I remembered it, "Military Equipment or just a Bren gun Carrier found in the woods of Muskoka country"
When visiting family in beautiful Huntsville Ontario my nephew said, "Do you want to see this project I'm working on." He then proceeded to tell me about of this WW 2 carrier with an old Ford Flathead v8 engine. His buddies and himself were going to rebuild this Bren-Gun Carrier MkI for the local legion.
I understood until the day of posting that the broken down carrier was rescued from the woods. But here is the whole confirmed story.
The story behind this abandoned military carrier.
The real story is that these 4 young fellas from Huntsville decided enough was enough. They saw this WW 2 Bren Gun Carrier sitting in front of the local legion for 22 years, sitting there, rusting away, deteriorating by the elements. So they took it upon themselves with the blessing of the Royal Canadian Legion, to bring this baby back to life.
If you find any spelling or grammar mistakes, CLICK HERE
These dedicated volunteers decided to use a spare room in the back of a local business to do their 942 Ford Universal Carrier overhaul. "I was going to say frame off restoration, but I don't think that applies to Track Carrier" These young fellas ripped and tore this old rusty remnant of a war long gone, that sadly some members still remember.
All these volunteers worked diligently to bring this relic back to life and after 4 years of hunting down, searching around the world for parts, they finally got this carrier in working and looking in pristine condition. Now, this Ford Universal Carrier No.3 MkI is proudly being displayed in their local Royal Canadian Legion for all to see. Remembrance Day parades they proudly bring it out from their newly built garage for all to see.    A reminder from a time long gone.
Being this story was supposed to be about a Barn Find Bren-Gun Carrier, there is a twist.
So through hunting down parts for this Bren-Gun Carrier, the overseas phone calls, e-mails from around the world to these die-hard WW 2 collectors and vets, there is an ironic twist to the story.
This is where the rumor gets interesting.
In the process of making this Bren-Gun Carrier workable they needed old parts. These 70 + year old parts are not that readily available, it's not like the automotive industry with aftermarket parts everywhere.  Not like going down to the local Home Hardware store to buy parts. You have to spend hours of online research, as the old guys used to say, "You have to beat the bushes" to find parts"
So, besides the overseas emails and calls, they went about it the old fashioned way. Word of mouth. One person would ask another and then another until they heard this rumor of an abandoned Bren Gun Carriers in the bush not far from where they were working.
 If anyone knows the beautiful surroundings of the Muskoka's, there are many lakes. But they do have lots of beautiful untraveled wilderness.
So getting back to the story, they did some investigating and sure enough, found one in the bush. So the boys hastily dragged this old abandoned relic out between the bushes, and now overgrown trees. Scavenged all the parts they needed for repairing their first priority.  Now as I understand, they are now helping fellow enthusiasts from around the world out with any extra parts they have.
This story is not an impossible thing to disbelieve. After the war ended there was a surplus of armed forces armament everywhere. When the war was declared over, thousands of new machinery (trucks, jeeps, army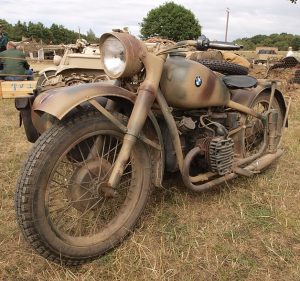 tanks, British Triumphs, U.S. Harley-Davidson's motorcycles.)Some of these still in there shipping crates. Destined for the war effort, but now, only waiting for their turn to be dismantled at a scrapyard. Just to be melted down for that new bridge or that car your driving.
Talking about scrap yards
CHECK OUT MY POSTING OF CLASSIC CAR BARN FINDS
It was no NOT uncommon to find 4 x 4 3 ton trucks in an automotive wrecking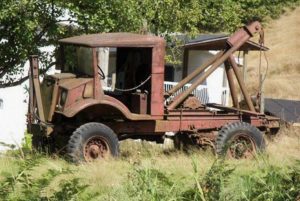 yard, they were used just to push old scrap cars around. Most of these old war surplus trucks were installed or bought with high booms, just to stack the cars on top of the other. Every wrecking yard which is a final resting place for metal (scrap yard) all had one? They were a perfectly cheap remedy for yard use.
On the Huntsville Legion website, they wrote
This 1942 Ford Universal Carrier No.3 MKI was given back to the Huntsville Legion.  It will be re-dedicated to the Legion in May 2012 as part of the Huntsville Legion's 80th-anniversary celebrations.
So as this story is in part about a barn find, (an abandoned Bren-Gun Carrier Bush find.) There was a good story behind these dedicated volunteers that helped the local Royal Canadian legion preserve our past (good or bad) history. AND AS FOR ANOTHER RUMOR;
"THERE IS STILL ANOTHER BREN-GUN CARRIER HIDING IN THE WOODS OF MUSKOKA"
For more information on the Bren-Gun Carrier at the Huntsville, Royal Canadian Legion check out this website (LINK) and read, their version of events and dedications.
MILITARY EQUIPMENT  BREN-GUN CARRIER BARN FIND, WELL, kind-A BARN FIND.
IF YOU FIND ANY SPELLING OR GRAMMAR MISTAKES, CLICK here