For Sale is an unusual and Rare Ancient Crescent Moon & Star headpiece, possibly come off of a royalty tent post or staff headpiece (topper) of sorts.
Research shows the star and crescent is a symbol of the former Ottoman Empire and began being used in the second half of the 18th-century. The decision to have a national flag was decided as part of reforms to modernize the Ottoman state instead of contemporary European states.
My research shows it comes from the Middle East, Turkey area, and possibly go back as far as the Old Ottoman Era.
The Turkish Flag today has some similarities.
Descriptions with pictures
Two hand-forged brass pieces with two steel peened over rivets holding the two sections together.
It looks to be a brass type material.
This is a blacksmith work of art … I did see some small amounts of file markings.
I have no history on this headpiece other than the collector was from Ireland and collected old artifacts from Eastern Europe.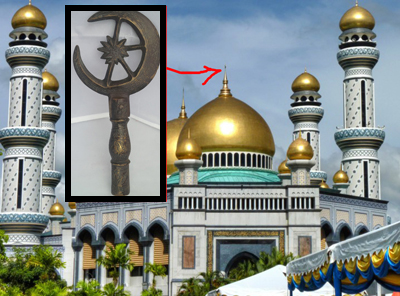 1 st (appraiser) Gabriela R…….z thought
I advertised this headpiece and had different opinions about what it is. Here is one collector that had a satisfying answer, and after saying this, she thought it was worth a lot of money.
She said, let me tell you a bit about the headpiece.
It was forged in two different molds made of bentonite, a type of clay, sand, and carbon dust. Then of coerce they hammered down and intricately embossed and gilded wether in gold powder, silver, or palladium. But it was forged in 1410 by a Greek Smith in Anatolian area the middle star has a symbol that the owner wanted outlined that he was a General and mediator between Ottoman rule and the Christian Orthodox community last name or by-name Demurcu. Now at least you know a bit more about it. Thank you I wish you could find its price though I KNOW IT WOULD BE MORE THAN I COULD PAY.
2 st (appraiser) thought
Hakan C…n from Turkey noted.
She says she saw this same kind of metal works in Dervish Lodges in Turkey. Its name "ALEM" in Turkish language, there is similar in metropolitan museum in New York City
Note
Dervish Lodges was built in 1491 and houses a museum; the Yenikapi Dervish Lodge which opened as Istanbul's largest lodge in the 16th century and is set on beautiful rolling grounds with a cemetery populated by Ottoman-Era sultans; and the Bahariye Dervish lodge
Sultans
According to the Encyclopedia of World Religions.
Sufis believe that: "the human spirit being a direct emanation from the divine Command, is, therefore, an emanation of God himself, and could find its highest aim only in the obliteration of its illusory selfhood and absorption into the Eternal Reality.
This piece could be a HISTORICAL find
FOR SALE please inquire for more pictures.
Summary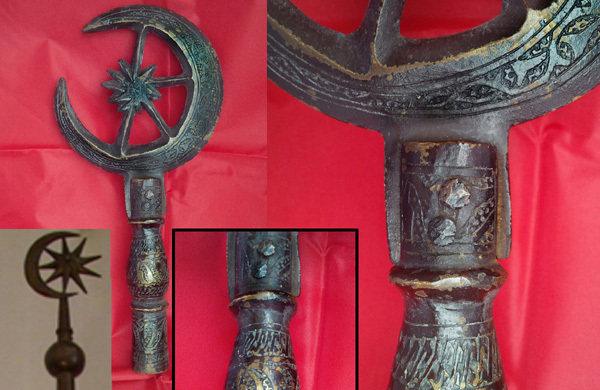 Article Name
Description
Rare Ancient Crescent Moon & Star headpiece,
Author
Publisher Name
Publisher Logo