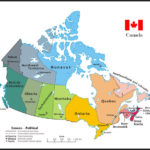 Canada is classified as the great white North, and whoever labelled us that, well; is,  absolutely right.
"GREAT WHITE NORTH"  in the winter and NORTH of our American  "friends" to the south.
Here is the trick to living in Canada, and if it's the winter that scares you, you just have to dress for it, that's all you have to do. The weather, depending on where you live in great Canada, can change drastically. In the winter it could be a balmy 40 deg.  to -25 deg.  But we all survive the cold. We just dress for the occasion.
 (Photo link) So, you're Moving to Beautiful Canada, Eh! 
On another note, when living in Canada in the winter, you can always put more clothing on to stay warm, but there is only so much clothing you can take off in the hot weather.
Another part of living in Canada in the winter is, sure it's cold, SUCK IT UP WUSS (buttercup).  We have in our great land diversity in winter sports activities like skating, tobogganing with your family, etc. What better way to get to know your kids and actually go out and have fun with them.
DID YOU KNOW HOCKEY WAS INVENTED IN CANADA
Ice skating rinks, backyard rinks, and the thousands of lakes that have frozen over, all there to skate on. There is snowmobiling, walking trails that stretch for 100 miles, nice fresh clean air to breathe. What's not to like!
Most of the world portrays Canada as a cold baron land where most of the landmass is covered in snow 6 months of the year, or, most of us still live in igloos. The people in the world must have mistaken Canada for Siberia, and in case you don't know your geography, that's in "Russia".
Some of our real far up northern brothers might stay in touch with nature, but that's their traditional right, but even they are starting to modernize.
Moving to Canada
Our American brothers think Canada is where all the cold weather comes from.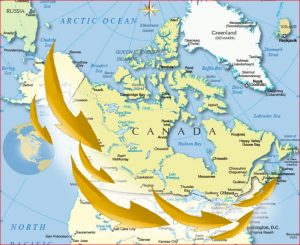 Again, another misconception. It comes from Alaska.
We have one of the largest economies in the world. Canada has the second-largest landmass. We have 250,000 lakes and islands. We are one of the safest growing countries in the world to live in and there is no safer place to bring up your Families.
 WHAT'S NOT TO LIKE, EH!
We have the finest universities and schooling in the world. People from around the world send all their kids to our universities.
Canada is one of the few countries that are known for versatility in religion, culture, etc., and accept all ways of life.
Not a day goes by that we don't hear of thousands of people going to extremes to immigrate into the United States and I always ask this question to myself . . .
WHY???
It can't be the weather. In most part, their northern part of the U.S. is as cold as ours, and yes, in a day's drive you can hit nicer weather. So what! It takes us a day and a half to drive to the U.S.'s nicer weather. So what's the problem?
I would move to Canada . . .  if I didn't already live here. Eh!
REASONS WHY YOU SHOULD MOVE TO CANADA
Beautiful Seasonal Weather.
Diversity.
Generations of immigrants have received a warm welcome to Canada. …
Good stable economy
Cost of living is at par
Healthcare. …
Friendly people.
Free from wars and famine
Freedom to travel to any part of our great land "sea to sea"
AND A THOUSAND and one MORE reason.
*WHAT'S NOT TO LIKE*
EVEN THE AMERICANS ARE CHECKING out Canada  and
THE CANADIAN GOVERNMENT HAS THE NUMBERS TO PROVE IT!