It's Valentine's Day again and it's only appropriate to think of flowers. Myself, I think of my Anniversary, Valentine's day and this is my next edition to THE LEAST YOU SHOULD KNOW SERIES of 50 articles.  This topic in the series is about Collecting Head Vases and in case you don't know what I'm talking about, flowers and head vases go together, and in the same sentence.
Head Vases where first introduced in the 40s for the florist and boutique industry as give-always to complement  flowers with these stylish vases.  They were a drawing card to bring in new customers to  there brick and mortar store. Grouping beautiful bouquets of flowers together in a classy looking vase known as a Head Vase was a big success. Like today, it's not uncommon to buy your darling flowers already put in a "plain" ordinary vase. But these weren't just any vase, they had a look all of their own.
Head Vases and Flowers go together.
Here is a little history.                                                                                                     The term head vase was referred to a special style of ceramic vase. Most, to all these vases as I mentioned, had a distinct look about them. They generally featured the head or bust of a person, but they also came in an animal theme, babies, children, men and some had a religious tone to them. (Nothing ordinary about these vases). So the porcelain head vases where not strictly of just beautiful women but they were the most popular of all.  In the same category of head vases, they were sometimes known as head planters but in my estimation, there is no comparison.
The Americans introduced these gems to the market before WW2 in the early 40's, but after the war, they were made by many off shore companies. (Mainly Japan)  By the mid 70's the market was flooded with head vases and the fad peaked. Now they are just a neat, hard to find, collectable.
There were also many companies that produced HEAD VASES just to hang on the wall. There was a pocket in the back for the flowers and they were referred to as "WALL POCKETS" (still seen today).

Point of interest: like I said, many of the most desirable and collectable head vases were of FAMOUS WOMEN like Marilyn Monroe, Joan Crawford, Jackie Kennedy and the likes. They were featured with fancy hats, realistic facial features, and even pearl necklaces with matching dangling earrings. Some even had a shapely hand with painted nails delicately framing one side of the face. By looking straight at these facial art pieces, you don't notice there is an opening in behind for the flowers. In the 60's they were hot items sold at five and dime stores such as Woolworth's and Kresge's.  Some of the prices being $3.00 or less.
Did you know there are popular "HEAD VASE" CONVENTIONS around the country?
Here is a helpful tip.                                                                                                                                                              When on the hunt for theses unique gems, one way you know they are Head Vases is by putting your hand in behind the head and checking that opening for the flowers. Other than that, you could be fooled thinking it to be just another nice piece of Porcelain.
"One collector said they all have something in common. They are all someone's fantasy of a beautiful woman".
ON ANOTHER NOTE:                                                                                                                                                                 HERE IS A HAMILTON, ONTARIO COUPLE WHO COLLECT HEAD VASES — THEY ARE UP TO 1,200 AND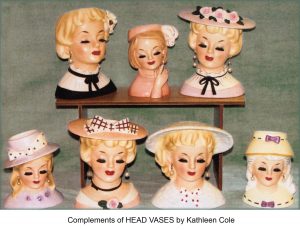 COUNTING, and that was in 2012. Here is a (link) to their collection.
https://www.thespec.com/living-story/2257252-head-hunting-collector-s-passion-for-head-vases/
Now you're all pumped up about your new found adventure, collecting Head Vases. Now what? You can find them at antique malls, flea markets, garage sales, and even at auction sales. The best part, most people don't even know what they are or have never heard of them.
Does that make them collectable or just scarce?
When you're looking, or hunting for these rarities, get in the habit when seeing a porcelain head or bust of some description sitting on a shelf with all those other pieces of glass ware, to place your hand behind the head to feel for that opening.                                                                                                                                                                                                      ∞ ∞ FROM THE FRONT IT IS HARD TO TELL. ∞ ∞
The most popular brands to look for are, Napco, Relpo, Rubens and Lefton. But beware there are a lot of reproductions out there.
 *** Do your research, remember knowledge is power*** (LINK)
SO … ARN'T YOU A LITTLE MORE INTERESTED IN COLLECTING "HEAD VASES" THAN YOU WERE BEFORE? . . . . I HOPE SO!
LET'S START COLLECTING "anything" and read my series of "THE LEAST YOU SHOULD KNOW" for other collectable information and, if you have any more than 3 items the same, you are already a collector. You just don't know it!
Hope this site was helpful on this Valentine's Day and I say to you, why settle with an ordinary vase when these collectable Head Vases have a little more …. Buzz.
I recommend this excellent book on "Head Vases Identification and values". By Kathleen Cole